Change Signal Editor Default Layout
When you start the Signal Editor tool, the Signal Editor appears in its default layout.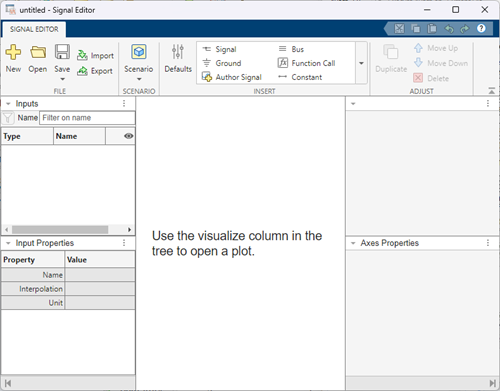 By default, the desktop includes these tools.
| Tool | Position | Description |
| --- | --- | --- |
| Toolstrip | Top of tool | By default, the toolstrip includes two tabs: Signal Editor and Edit. |
| Inputs | Top left pane below toolstrip | Manage scenarios and signals. |
| Input Properties | Bottom left pane | Manage signal properties. |
| Signal | Right pane below toolstrip | Manage signal time and data. |
You can change the layout as you wish. The changes persist between MATLAB® sessions.
Hide Toolstrip
To hide the toolstrip, click
on the bottom right of the toolstrip. To restore the toolstrip, right-click the hidden toolstrip band and select Restore Toolstrip.
Minimize Signal Editor Tools
To hide Signal Editor tools, click

and select Collapse Panel. To restore the tool, right-click

select Expand Panel.
Move Signal Editor Tools
To move Signal Editor tools, left-click the title bar of the tool and drag the tool to the desired location.
See Also
Related Topics